Regular price
£22.00 GBP
Sale price
£18.00 GBP
Unit price
per
Sale
Sold out
Share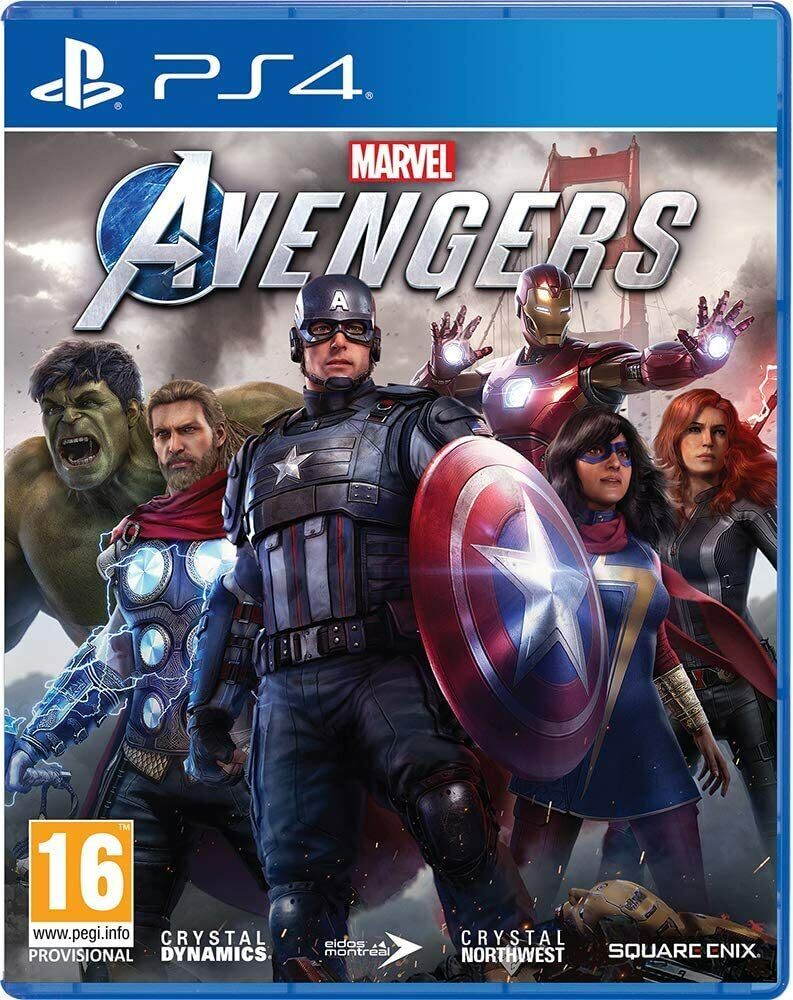 Marvel's Avengers (PS4)
PLEASE NOTE - THIS HAS FRENCH AND DUTCH LANGUAGES ON THE COVER BUT PLAYS IN ENGLISH AND IS FULLY COMPATIBLE WITH ALL PS4 CONSOLES.

Marvel's Avengers is a story-driven, third-person action-adventure game. Players reassemble and rebuild their Avengers roster in an original, cinematic single-player campaign, then battle solo or online alongside friends in new missions around the globe. Customize Earth's Mightiest Heroes and then harness their unique powers to defend the world from escalating threats for years to come.

Marvel's Avengers will be available on September 4th, 2020 for PlayStation 4, plus PlayStation 5 owners can upgrade to the PS5 version of the game at no additional cost. Players can also enjoy cross-gen play between PlayStation 4 and PlayStation 5.

*Specific features and details to be shared at a later date

Play an Original Avengers Story

Marvel's Avengers begins at A-Day where Captain America, Iron Man, Hulk, Black Widow, and Thor are unveiling a hi-tech Avengers Headquarters in San Francisco — including the reveal of their own helicarrier powered by an experimental energy source. The celebration turns deadly when a catastrophic accident results in massive devastation. Blamed for the tragedy, the Avengers disband. Five years later, with all Super Heroes outlawed and the world in dire peril, New Jersey teenager Kamala Khan uncovers a shocking conspiracy and the only hope is to reassemble the Avengers in time to stop a new secretive organization, Advanced Idea Mechanics (AIM), before they unleash one of the greatest threats Earth has ever faced.

Embrace Your Powers

Progress through the single player campaign to rebuild your Hero roster and restore their powers; then continue to battle AIM solo or online with friends.
Unlock powerful skills and new gear for each of Earth's Mightiest Heroes to suit your playstyle.
Customize these iconic Heroes with classic, fan-favorite, and all-new original outfits inspired by over 80 years of Marvel history.
Flexible combat system, dynamically scaling difficulty, plus customizable gear and skills to support unique playstyles for each Hero.

Assemble Online

Using a reclaimed helicarrier as a base of operations, players launch Hero Missions (single-player) and Warzone Missions (single-player or co-op) in hotspots around the globe.
Up to four players assemble online to defend the Earth from escalating threats that only the Avengers can overcome.
The narrative will unfold over multiple years, with every new Super Hero and region delivered at no additional cost.

PRE-ORDER FOR BETA ACCESS*
BETA code redemption process
1. Visit www.playavengers.com/redeem
2. Log in or create a Square Enix Members Account
3. Enter your 18 alphanumeric code into the website and select the desired platform
4. Square Enix will email the beta code for your platform of choice once it is available
5. For more information, visit the FAQ section on www.playavengers.com

*Subject to availability. Beta access release date(s), duration(s), platform availability, and region availability to be announced. Internet access required. Platform-specific paid online subscription may be required. Free Square Enix Members account required.
View full details